Sgt Bilko's Vintage Emporium and The Phil Silvers Museum are proud to offer an exclusive range of Phil Silvers / Sgt Bilko merchandise! New items added regularly so check back !
£20.00
Our exclusive colour #Bilko animation #tee. Available in black, white, navy, grey, prairie dust or our latest colour military green! Sizes S - 5XL. (prairie dust S - 2XL) Long sleeve versions arriving soon!
Variations Available: Small to 5XL

£20.00
Exclusive Society/Museum t-shirt. Available in various colours and sizes. Please message with your requirements.
Variations Available: XS,S,M,L,XL,XXL,XXXL

£20.00
Exclusive Society/Museum t-shirt. Available in various colours and sizes. Please message with your requirements
Variations Available: XS,S,M,L,XXL,XL,XXXL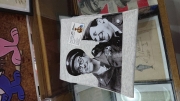 £20.00
Exclusive Society/Museum t-shirt. Available in various colours and sizes. Please message with your requirements
Variations Available: XS,S,M,L,XXL,XL,XXXL